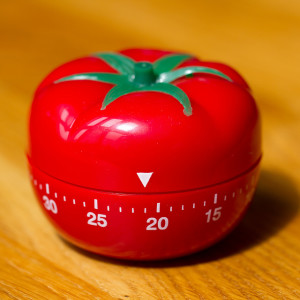 Do you want to be more productive with your daily tasks so you can spend more time doing what you love? Here's a technique I love to use when I'm working on my do-it list each day:
The Pomodoro Technique
What's a pomodoro? Pomodoro is "tomato" in Italian. Francesco Cirillo, the Italian inventor of the pomodoro technique, used a tomato-shaped kitchen timer when he invented this technique.
How does it work?
Here are the steps to the Pomodoro Technique from www.pomodorotechnique.com.
CHOOSE A TASK YOU WANT TO ACCOMPLISH
Choose something that requires your full attention. The task can be big or small.
SET YOUR KITCHEN TIMER (POMODORO) FOR 25 MINUTES:
Vow to completely immerse yourself in your task for the 25 minute session.
WORK ON THE TASK UNTIL THE TIMER BEEPS
Work on your task for the full 25 minutes. During those 25 minutes, if you get sidetracked and think of something else to do, write that task down on a piece of paper. That way, you won't forget about it, but you can return your attention at the moment to the first task you wanted to accomplish.
WHEN THE POMODORO BEEPS, PUT A CHECKMARK ON A SHEET OF PAPER
Great job! You've focused on your task and made some progress toward your goal.
BREAK TIME!
Take a little break. Do something relaxing. I use 5 minute breaks and feel they are very beneficial - long enough to feel refreshed yet not too long to get unmotivated.
AFTER COMPLETING 4 OF THESE CYCLES, TAKE A LONGER BREAK
Once you've completed four pomodoro sessions, it's great to take a longer break. According to the Pomodoro website, 20 or 30 minutes is great.
Using this technique can greatly help you protect your time from distractions and help you get through those things you just can't stand. As you can see, it's a simple concept yet is incredibly helpful.
Try it out, and let me know what you think!