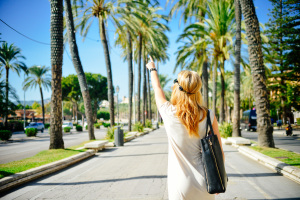 There are so many awesome things about traveling. Meeting new people, exploring new places, trying the local foods and specialty drinks...I could list a ton of reasons why I absolutely love to travel.
One awesome benefit of traveling hit me on this trip, and it did during the last trip, and the one before that...
Traveling gives you a fresh perspective of the world. And this new vantage point spurs creativity.
That is one of the best things about traveling...It completely ignites creativity.
Several big changes in my life have happened because of ideas I've gotten while traveling recently, and on this trip I had another one...I cannot wait to get started on it!
Photo credit: www.stokpic.com/Ed Gregory/Girl Pointing At Sky In Summer